I'm Archie . . . the very cyberized citizen of the net. I surf for a lot of reasons - to have fun, steal knowledge, capture friends, kill time, do some business. . .

One thing I enjoy most when i'm online . . . the thing that keeps me awake 'til dawn . . . doing these Christian things --- visiting Christian sites, listening to Christian midis, meditating on the Word of God, studying the Bible, taking the opportunity to be prayed for and to pray for whatever prayer requests I encounter.

I would like to share my faith using this medium (what else . . . the web!). One thing I thought of --- linking to Christian sites and some wonderful Christian homepages that boldly share the gospel of salvation through Christ. I still have to make up my mind as to what effective and somewhat unique way to do to give my share in this highest calling I now hold . . . the Great Commission.

My e-mail is on your left side (if you're facing the monitor) for any prayer requests. I don't have time to create a prayer page right now but I promise to have one as I can always ask my friends to be my prayer partners for this noble task. All requests are as private as you want them to be. I will not disclose names or e-mail addresses unless you ask me to. For those who want to know more about Jesus, you can turn to my webrings for the sites that explain salvation. But if you're decided right now to accept Jesus as your personal savior and would like to give you heart to Him, e-mail me and I'll pray for you. Again, I may have another page for salvation in the future so please keep coming back. I'm adding new things all the time. Be encouraged, be blessed as you explore my cyber home.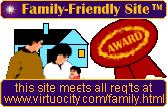 Sign My Guestbook

View My Guestbook

John 3:16 For God so loved the world that He gave His one and only Son, that whoever believes in Him shall not perish but have eternal life.
Isaiah 53:5 But he was pierced for our transgressions, he was crushed for our iniquities; the punishment that brought us peace was upon him and by his wounds we are healed.
Romans 3:23 for all have sinned and fall short of the glory of God.
Titus 3:5 he saved us, not because of righteous things we had done, but because of his mercy...
Psalm 29:2 Ascribe to the Lord the glory due His name; worship the Lord in the splendor of His holiness.
1Corinthians 13:4-8 Love is patient, love is kind. It does not envy, it does not boast, it is not proud. It is not rude, it is not self-seeking, it is not easily angered, it keeps no record of wrongs. Love does not delight in evil but rejoices with the truth. It always protects, always trusts, always hopes, always perseveres. Love never fails.
James 4:2-3 James 4:2-3 You want something but don't get it.You do not have because you do not ask God. When you ask, you do not receive because you ask with wrong motives...
1Peter 5:7 1Peter 5:7 Cast all your cares on Him because He cares for you.
Philippians 4:8 Philippians 4:8 …whatever is true, whatever is noble, whatever is right, whatever is pure, whatever is lovely, whatever is admirable-if anything is excellent or praiseworthy-think about such things.
Hebrews 11 faith is being sure of what we hope for and certain of what we do not see.
Romans 10:13 for everyone who calls on the name of the Lord will be saved.
John 14:27 Peace I leave with you; my peace I give you. I do not give to you as the world gives. Do not let your hearts be troubled and do not be afraid.
Psalm 16:11 You have made known to me the path of life; you will fill me with joy in your presence, with eternal pleasures at your right hand.
Jeremiah 29:11 For I know the plans I have for you, plans to prosper you and not to harm you, plans to give you hope and a future.


Top | Family | Junji | Friends | Christian Sites | Banners | Resources | Webrings | Homepages | Photos | Email