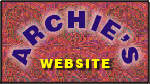 Stunning Homepages
These are just a few of the awesome homepages I came upon. Most have Christian contents. My testimony of how I came to know Christ is not as interesting as the testimonies of some of these homeowners. While I was trying to figure out how in the cyberworld I would like to be a blessing to many cybermaniacs, I thought of linking their pages (with really wonderful contents) to mine. In this way, I trust that I'm doing my share in gossiping Jesus Christ to the world in a cyberized way.

Nerd's Place
Peggie's Place
Sandra's Homepage
Doris' Testimony
Philip's Home on the Net
Arms of God
FrEaK's Web Site
Lorna's Homepage
Grant's Graceland
Katie's Homepage
Christian Education Page
Trippy Hippy's Homepage
Gilberto Barreto & Friends

Special Homepages
Here are special cyberhomes. What makes them special? I personally know each of the owner. Mimi is my beautiful sister. Donna is my darling dear. Carsten, Philip and Joshua are my friends. I believe Carsten and I started learning web designing at the same time (almost, right, Carsten?).

Carsten's Homepage
Philip's Homepage
Merlie's Homepage
Donna's Homepage
Joshua's Homepage

Top | Home | Family | Junji | Friends | Banners | Resources | Webrings | Christian Sites | Photos | Email